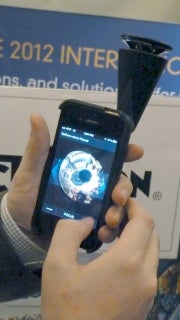 Good news everybody. One of those amazing projects from the Kickstarter website has finally crossed the threshold and is now available to the general public. We're talking about that iPhone attachment that enables users to record 360-degree videos.

The device is incredibly easy to use. Just attach the GoPano Micro to your iPhone 4 and the 360 lens on top will immediately start recording video of everything going around you. Imagine shooting a video of this huge summer incredible party with your iPhone 4. When you get back home, you can swipe across the screen and see everything that was happening. You might not have heard those two blondes arguing over cocktails, or that great joke your friend Joey said, but your camera sure did. And now it will share that information with you.


The main project sponsor, Michael Rondinelli and his team created a bunch of videos to showcase how absolutely wonderful the 360 videos are. There's actually a very compelling scene when the an iPhone is mounted on the hood of a car and then driven around the streets. Now, you can be the architect of your own Google Street View videos.

GoPano has managed to get funding of US $20,000 so it can assemble the GoPano Micro. If you're interested in being one of the first people to get their hands on the model, you can reserve one of their first production models by making a donation of $50 on the Kickstarter website. Hurry up if you want to purchase it for a smaller price, once it will hit the market, GoPono will go on sale for $80 per unit.